Case Study
Amplify
WEBSITE DESIGN + DEVELOPMENT | COLLATERAL DESIGN | MOTION GRAPHICS | VIDEO PRODUCTION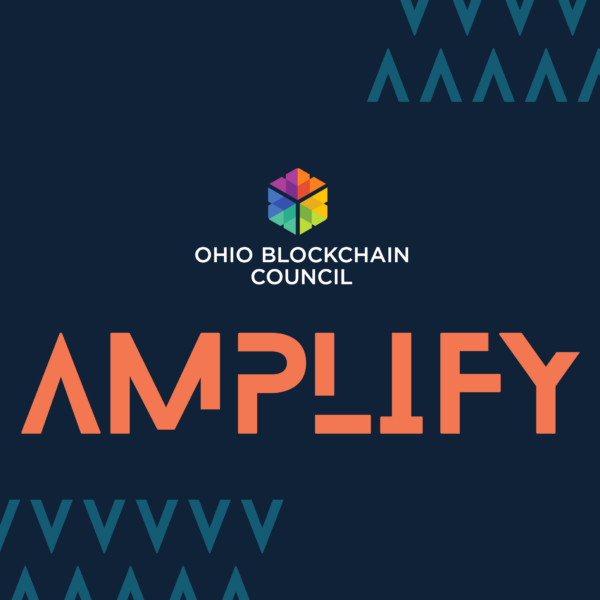 WHAT IS AMPLIFY?
Amplify is a full day event packed with expert speakers from a broad range of companies that believe in blockchain and Bitcoin technologies. Hosted by the Ohio Blockchain Council (OBC), this event provides an amazing opportunity to network with industry leaders that are investing in powerful solutions to solve the energy problems of today to create a better tomorrow.
SO… WHO IS THE OHIO BLOCKCHAIN COUNCIL?
The Ohio Blockchain Council unites industries under the common mission of advancing Bitcoin and blockchain technologies to ensure Ohio is positioned as a national (and global) leader in innovation and development. The OBC also provides business development and client matching opportunities for companies looking to do business in Ohio.
WHATCHA NEED?
WEBSITE DESIGN + DEVELOPMENT
With a minimal online presence and an outside ticketing link, we needed to update their website and drive ticket sales through their homepage.
COLLATERAL DESIGN
Memorable, informative graphics are a big part of any in-person event. And of course we're going to make them interactive at a blockchain event…
MOTION GRAPHICS
With multiple screens ranging in size for 65 inches to 15 feet, AGNT created a series of motion graphics designed to both catch your attention and highlight the event sponsors.
VIDEO PRODUCTION
Armed with 2 DSLR and 3 video cameras, we captured the days events to be used in future marketing campaigns.
WHAT WE DID.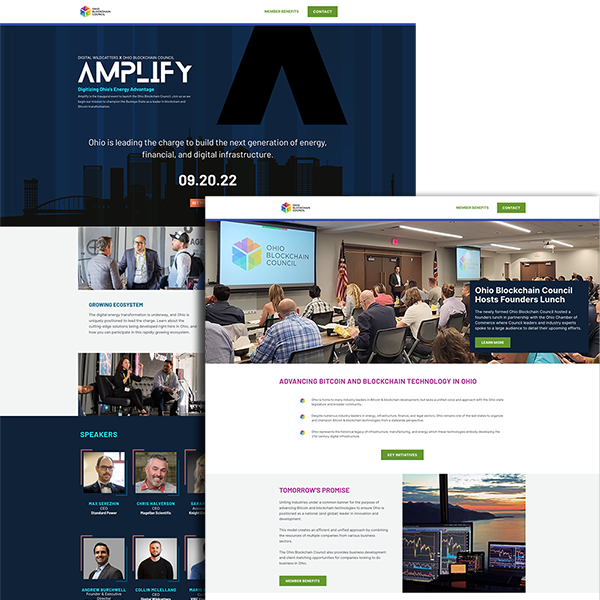 WEBSITE DESIGN + DEVELOPMENT
How do we raise awareness of the event while giving legitimacy to the Ohio Blockchain Council?
We built an engaging event page into the existing OBC site, complete with countdown timer, ticketing link, full agenda, panelist information, and shout-outs to all the sponsors. We polished the entire site; adding new blocks, improved storytelling, and simplified navigation by refining it based on three user paths: information about the OBC, membership benefits, and the best way to get in touch.
COLLATERAL DESIGN
A month until the event, we had some work to do getting everything designed, proofed, printed, and delivered in time.
To establish consistency between the digital and in-person audiences, we designed a conference guidelines document to give all team members and vendors a northstar. With clear direction in hand, we laid out a strategic plan based on print lead times to get everything designed, approved, and produced prior to the event. Starting with physical displays, we created multiple retractable banners, backdrops, signage, even the name badges for the event.
Getting these approved and into production right away gave our vendors time to create and ship them directly to the venue.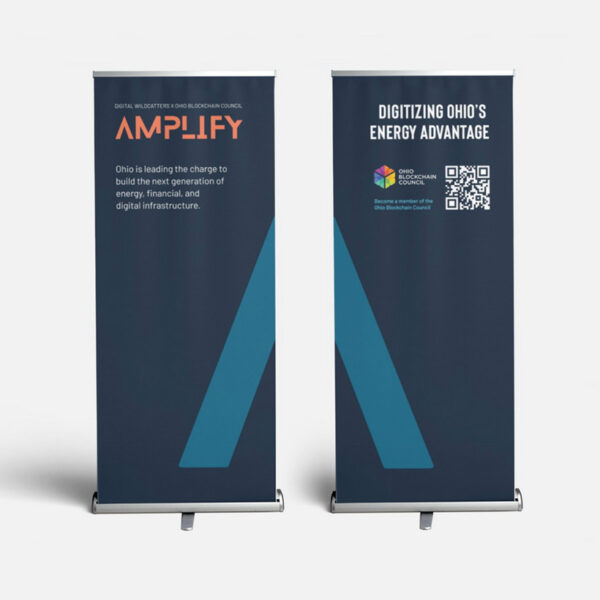 MOTION GRAPHICS
Attention grabbing attention to detail.
When AGNT saw that we had access to multiple 65″ screens and one 15′ screen, we knew we had to create graphics that would not only be informative, but that would make attendees stop in their tracks to watch.
With a focus on Columbus, and the expert panelists we did just that (Causing a few traffic jams along the way)!
Video Production
On the day of the event, AGNT team members ran a multiple camera production.
Shooting with three cameras, we captured video, still, and panel audio. These videos will be used for future marketing content, as well as delivered to people that were unable to attend. Leaving nothing to chance, we fully embraced the role of event planner from setup to tear down.
AGNT helped facilitate an all-encompassing experience that resulted in one badass event.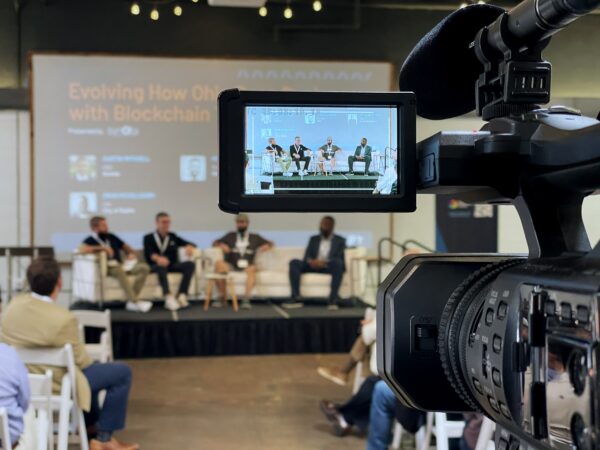 HOW'D IT GO?
outstanding
The OBC and AGNT teamed up to create a consistent brand experience and outstanding turnout for the inaugural Amplify event. Not only was the event efficiently run, attendees had rave reviews of the motion graphics, print work, and were thrilled for the education and networking opportunities. In addition, the OBC website got a fresh, intuitive overhaul that speaks to the audience and clearly defines their purpose, personality, and credibility.
Are You READY for A WELL RESEARCHED, DATA DRIVEN APPROACH?