CASE STUDY
CITY OF COVINGTON
COLLATERAL DESIGN | SCRIPTING + STORYBOARD CREATION | MOTION DESIGN
We love Covington.
When the opportunity presented itself to partner with the city that has done so much for us, we jumped at it.
The ask was straightforward, "…show our partners and the community the City's Economic Development success in 2022 in a compelling way."
While traditionally a print piece, we wanted to take this to the next level. With a tight timeline, not only did we create the print piece, but also a 90 second video that really captured the true spirit of Covington.
WHATCHA NEED?
COLLATERAL DESIGN
16 pages of facts, figures, and numbers can be overwhelming to read through. Organizing the content in a captivating way and supplementing it with plenty of gorgeous visuals was key.
MOTION DESIGN
TikTok, Reels, YouTube, and more have changed the way we consume content daily. Creating a highlight video was an obvious way to get the facts in front of as many people as we could.
WHAT WE DID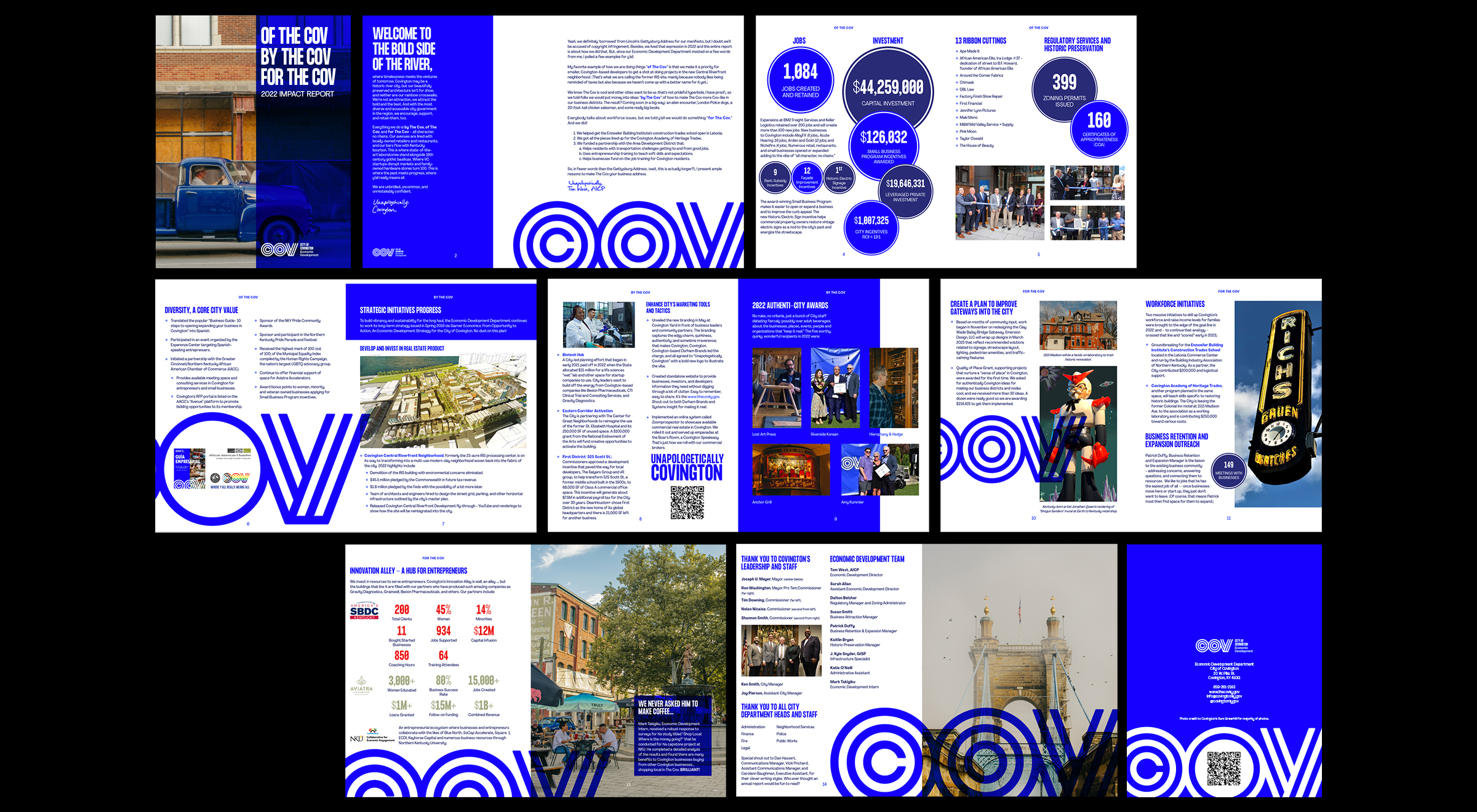 COLLATERAL DESIGN
How do you make facts, figures, and numbers exciting?
Starting with a distinctive writing style from the Covington Economic Development team, an unapologetic brand refresh (shout out to Durham!), and gorgeous imagery from Sam Greenhill we got to work creating layouts that would allow us to showcase the bold side of the river.
Take a look for yourself.
SCRIPTING + STORYBOARD
Key to the process of any video project is scripting and storyboard creation.
With so much outstanding work done by the Economic Development team in the past year, we needed to make sure the video was impactful, inclusive, and showcased the reach of the program.
Each scene was crafted purposely, with compelling content and hand drawn storyboards designed to take full advantage of the bold new Covington brand.
A few client brainstorm sessions put the final polish on and we went right into production.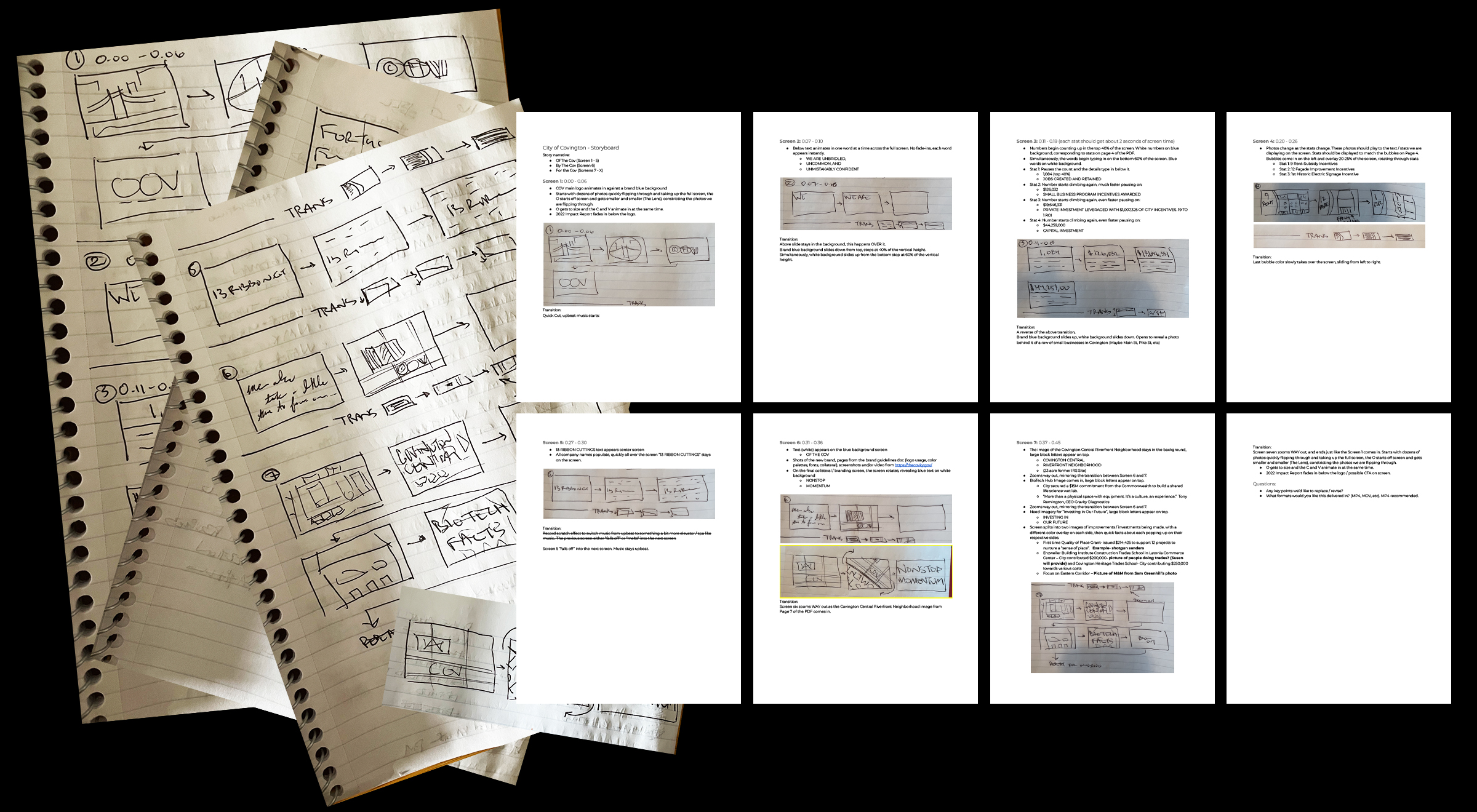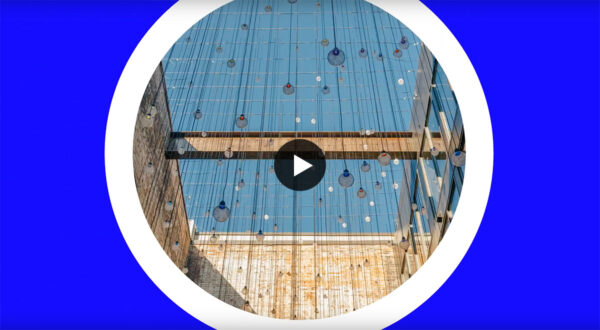 MOTION DESIGN
With comprehensive data on job creation, investments, city incentives, new businesses, strategic initiatives, and what the future holds; selecting the highlights was no easy task!
We worked closely with representatives from the city to ensure we showcased key points in an engaging and purposeful way.
The end result is a 90 second tribute to the amazing work the City of Covington Economic Development Department completed in 2022.
Check it out, smash that like button, and share it with your friends!
HOW'D IT GO?
COLLATERAL DESIGN
AGNT delivered a showcase print piece that presented all the successes from 2022 in a clean and concise fashion.
MOTION DESIGN
The 2022 Impact Report highlight video offered a unique spin to the traditional print piece, allowing it to be shared to entirely new audiences.
Want to see what the power of video can do for your business?